Basic info
Everything you need to know before visiting Barcelona
Weather will be fine? Where can I find...?
Check this practical and useful information, and you will find answers to the most frequently asked questions that arise before packing.
Temperature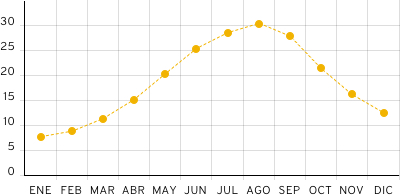 Languages
Most of people living in Barcelona speak Spanish and Catalan, which is also the official language. Many understand English and French, and can guide tourists when they ask for information.
Time Zone
11:15
Barcelona, as the rest of Spain (except the Canary Islands), applies the time corresponding to the Greenwich meridian UTC / GMT +1 hour.
Population
1.620.809
Barcelona is the second most populated city in Spain after Madrid, and the eleventh in the European Union. The metropolitan area of Barcelona has more than 5 million inhabitants, making it the sixth largest city in the European Union.